No two sites and no two golf courses should be the same. Whether the final result is a woodland, parkland, heathland or downland the inspiration of the course will come from the landscape, its ecology,contours and site features,all of which dictate the final masterplan.
Our aim as architects is to extract the individual character from each site and not to merely rubber stamp a single style upon each site. Sometimes material  must be moved to create the sense of immediacy that is required, but volume of material moved is not necessarily  a measure of quality. To create interest and challenge the 3 main elements of golf course architecture ,namely the penal, strategic and heroic philosophies need to be carefully applied to the design.
Our courses are designed to be enjoyed by all golfers so that whilst there is clearly a different approach to a public pay as you play course to a "championship" course, by providing strategic lines of play, options are created that will give any golfer a challenge to suit their game.
Simon Gidman golf courses have often been used as venues for major golfing events, for example :-
Frilford Heath G.C.- Blue Course
2001  Southern Region PGA Championships
2002  English Seniors Amateur Championships
2010  Southern Region Brabazon Qualifying
2012/3  PGA European Tour – Build Base Open
2013  English Amateur Championships – Stroke play event
and since 2005 venue as PGA European  Qualifying Tour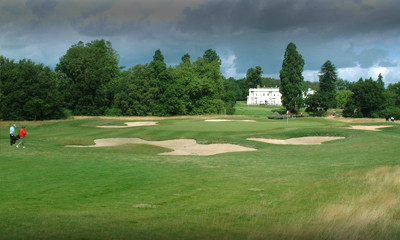 Burhill G.C. –
New Course
   2008 – Europro Tour
2010/11 – British Seniors Open – qualifying event